Package 9 : 3 Days Holy Rituals To Find Your Correct Life Path. This Package Is Accumulation From Package 1 To Package 7.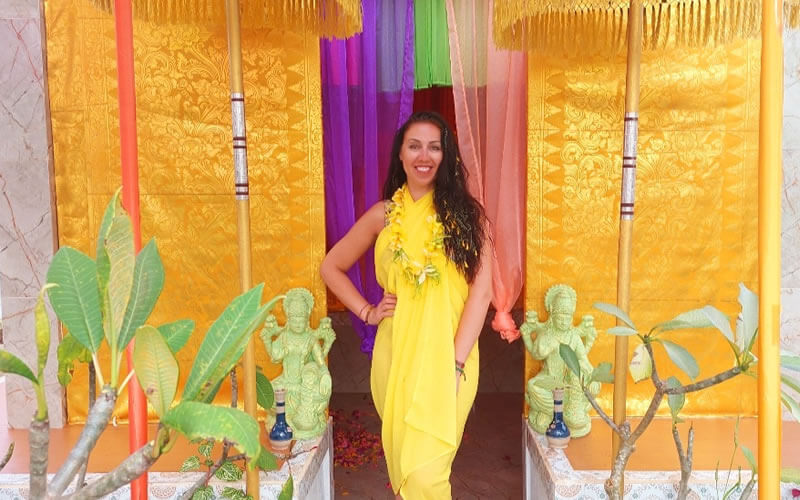 Price : US $ 450
This holy ritual is a kind of the whole journey of your life, since you was in the womb of your mother, you just a form of light and an energy, created by the highest energy in this globe, then you born, you do your mission in this world and after you finish with your mission in this life, you will go back to your creator and you will unite with them in 9th level of heaven.
This special ritual will start at 7 pm to 9.30 pm every night during 3 evening nonstop and during the full moon only. The first step, he will purify you with the sacred Holy Water which was collected from 9 sources of holy water from all over the country. The Holly Water has very strong energy for starting the process of your purification, to clean your soul, mind and physical body before the first night ritual started.
Agus first will clean any bad energy and negative influences from the demon, bad spirits, and bad energy of your surroundings, then will clean negative energy from inside of you and at the end will fill you with positive energy.
This ritual is very strong, very intense and also very powerful for any kind of issues. In this ritual you will get all elements in spirituals from reading, analyzing, holistic healing, aura cleansing, purification, energy and chakra balance, teaching, question and answers, and all the beauty, sacredness, power will gather in this package.
In this package, you also will get all the teaching and knowledge's, philosophies, guidance how to be yourself, how to be balance and in harmonious in this life, and how to achieve you're real dreaming in your life.
Every night Agus will focus on a different aspect of your life. Agus will use his spiritual and non-spiritual knowledge to guide you to a clear direction forward in your life. On this ritual you can use for focusing in any kind of issues such as improve spiritual energy , getting enlightening , love partner , business ,health ,life path and other general issues in this life .And you have 100% freedom to ask him whatever you're really need on your private expression.
To accompany this session you will also receive many gifts during this ritual. Some amulets filled with positive energy to make you strong and to protect you in all aspects use natural healing stones and ancient stuffs, A Holly mantra in the form of amulets and magical words and blessed incense and magical oil and other gifts NTBA depend on your issues which you can use for upcoming 1 year.
If your journey to Bali is short and you do not have 3 nights available for doing this ritual it is also possible for Agus to create a 1 day and night ritual specific to the priorities in your life, and the result be same as if you do 3 nights, only you will need more and longer hours than if you do during 3 nights.
Notes:
1. This ritual base on night ritual and mainly in Agus house and visit to a sacred beach, or sacred river or sacred rice field or other sacred places ( one of them ) as additional ritual to get support of the nature energy. But if you are prefer to do during the day then all the ritual will be done at home only.
2. If you want to do in one day with original session Agus will arrange the session as bellow.
The first 2.30 hours session will be done before lunch, the second 2.30 hours session will happen after lunch and the third 2.5 hours session after dinner. A simple delicious traditional Lunch and dinner are included in this package.
3. This holy and sacred ritual based on the 3 nights of holly full moon, but if by the chance you are in Bali not during the full moon, you also can do outside of the full moon time.
You do this package during the full moon or not during the full moon ,or you do in 3 nights or only in the one whole day,the beneficial is still same. Only during the full moon can be the energy,the situation and with whole full moon shine will give more point plus.
And if you do this package only in one whole day ,can be you will feel tired. But even if you do in one whole day ,we still make some breaks for Agus to recharge the energy and for you to be have time to relax .So the really all will be good ,depend on what you really feel good feel happy and feel peace.
This is the time where Agus work.
At 10 am.
At 14 pm.
At 18 pm.
At 20 pm.
Can still be flexible but this is the basic hour.
If you have preference time please let us know but we can not give you guarantee that you can get your preference time.